Rooted in the rustic and traditional cowboy theme, ANDES by ASTONS brings the best quality and value-for-money steaks and other western fare to you.
Being halal-certified and MUIS-accredited, ANDES is the answer to the calling of our Muslim friends for scrumptious and affordable steaks and western cuisine in Singapore. An alter-ego of ASTONS Specialities where the menu is almost identical, ANDES uses the same high quality and fresh ingredients to serve up generous portions of food to our customers.
Our main menu consists of a wide selection of steak cuts, chicken and seafood with the majority of main courses served with two side dishes of your choice, cold or hot. At ANDES, you can definitely find something that suits your palate. Great food at great prices with a great atmosphere, what more could you ask for?
November to December Offer
Well, good news! For the months of November to the end of December, you can enjoy this super combo at just $15.9! This combo includes a suuper spicy and juicy cut of our most popular GRILLWORK CHICKEN flavor and 2 side dishes of your choice + mushroom soup. Relieve your burns by downing a cool and refreshing drink!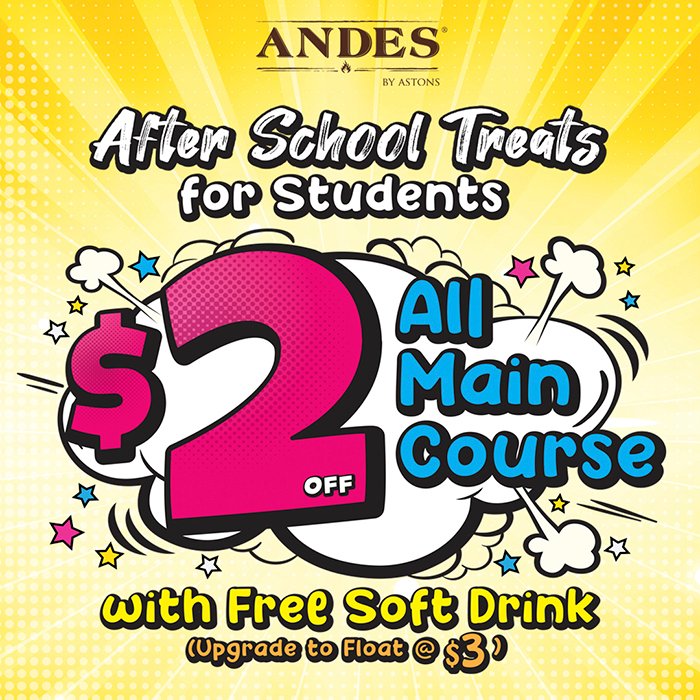 Student Deals
$2 Off all main course with free soft drink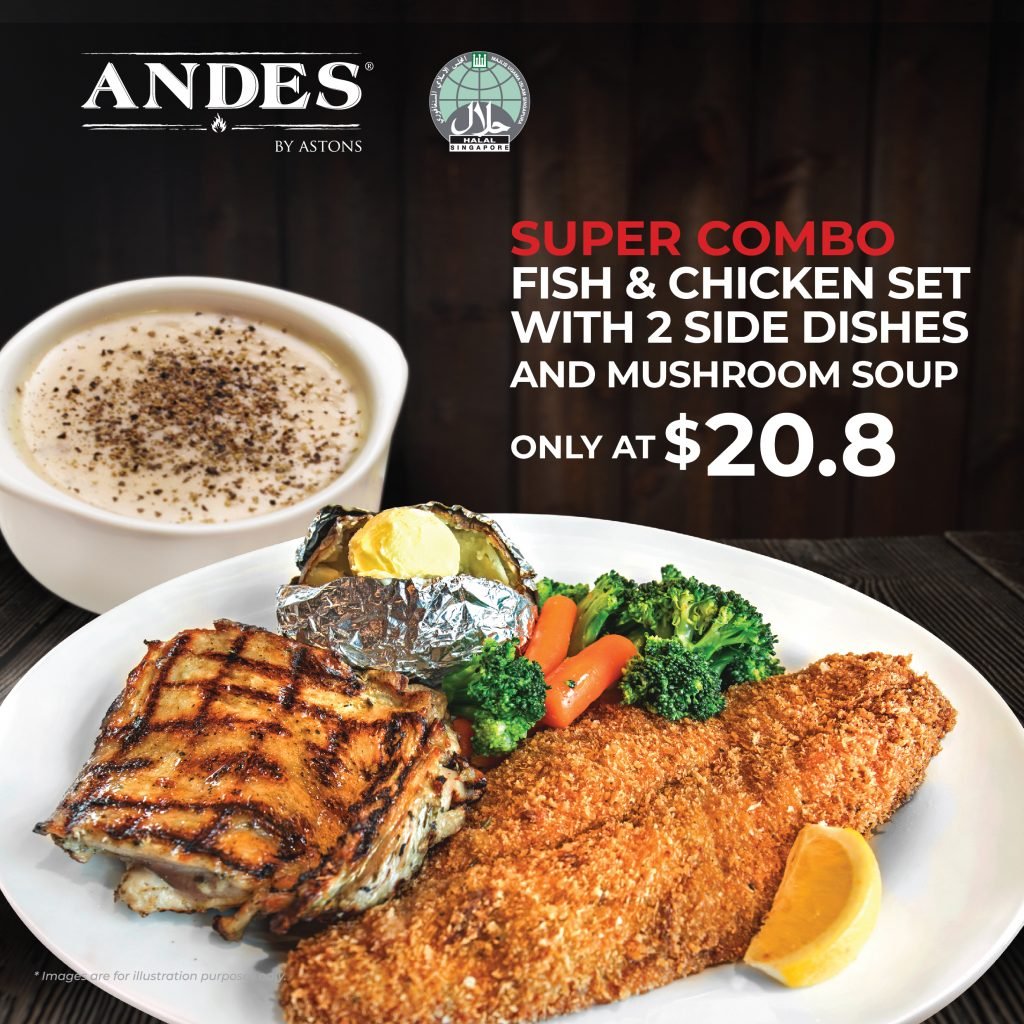 September to October Super Combo
Fish and Chicken Combo at only $20.8
We are upgrading our Table Ordering Experience.
ASTONS will like to thank each and every one of our loyal customers for embarking alongside our journey so far. We are extending our gratitude to you with better in-store ordering systems, a better version of the ASTONS app is in the makings as well! Expect these exciting features in our upcoming table QR ordering:
HASSEL-FREE ORDERING: Order and pay through the table QR. Kindly note that this feature is only available in-stores. For voucher redemption do make your way to the counter to make payment.
EARN & REDEEM: You will still be able to earn loyalty points as you journey on with ASTONS. This feature applies to all brands under our group islandwide (click on Other Astons Brands to find out more). Every dollar spent will be converted into points, which you may accumulate and redeem for items in the future!
Thank you for your patience and do check back on this page frequently for updates on our digital transformation progress!
Contact Us
Any questions? We'd love to hear from you!
ASTON FOOD & BEVERAGE SPECIALITIES PTE LTD (HEAD OFFICE)
22 Senoko Crescent, Singapore 758275
Tel: 6744 7732
Fax: 6748 2052
Email: enquiries@astons.com.sg